A professional make up artist Rome is a master of creating a unique artistic image that uses various make-up tools. She always takes in consideration the individual characteristics of each client, the trend of fashion variability, especially in the style of clothing and the general style of the upcoming event.
Every day, every lady spends a few minutes of her time to look attractive. But in order for the result to be optimal it is worthwhile to at least sometimes turn to a professional make up artist Rome who will competently emphasize natural beauty and hide minor flaws.
Professional make up artist Rome:
knows how to choose the shades and structure of tonal resources;
owns various techniques of applying decorative cosmetics and knows their features;
skillfully applies methods and means of visual face correction;
can adjust eyebrows, model their shape;
easily determines the individual color type and selects the appropriate shades for makeup;
owns the technique of creating the correct, natural visage;
distinguishes the shape of the lips and successfully visually corrects them;
knows the secrets of makeup for photos and videos, special events;
skillfully performs male makeup;
A good make up artist Rome  is a specialist in the beauty industry and knows how to create an amazing, fascinating look image. Make up is a high art and therefore it should be done only by professional stylist who has a unique sense of beauty, color, harmony!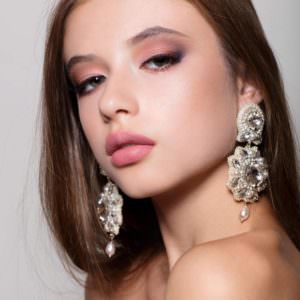 No one can argue with the fact that the face is your business card. Make-up reflects your attitude to fashion and self-image. When makeup matches the inner "I" and your mood, it makes you more attractive. As a result, you look good and satisfied with yourself!
Graduated make-up artist Rome – "Accademia del trucco professionale";
in Paris – the academy "Fleurimon".
Years of experience in creating a wedding image.
Impeccable wedding makeup and hairstyle made by a skillful stylist's brush, will transform any girl into a beautiful princess! Only extraordinary, fantasy and professional skills will make the wedding image of the bride harmonious and comfortable.
TYPES OF MAKE UP:
evening make up Rome
day makeup  Rome
wedding make up Rome
photo shoot makeup …
And also works closely with famous photographers, models, stylists …
In her work she uses professional cosmetics of the highest quality: MAC, Bobbi Brown, Shiseido, Giorgio Armani, Kryolan …
Package stylist wedding services:
trial wedding bridal makeup and hair style.
Wedding hairstyle and makeup on the day of the ceremony
discount for moms, relatives and girlfriends.
Also  we work in hotels!
We will come to you at the agreed time!
If you are interested in a wedding make up Rome, a make up for a photo session Rome, as well as a business make up, day make up, evening make up, as well as all types of hairstyles, we suggest you to look at the portfolio of our master.